Plugin Settings
> Go to Forms => Settings => WPSyncSheets For Gravity Forms
1. Client ID and Client Secret Keys as per the documentation here.
Client Token will get generated by clicking to the button "Click here to generate an authentication token." with allowing the access and paste the code within the Client Token field.
Note: Client Token is only allowed to get create if you will have added Client ID and Client Secret Keys with above fields.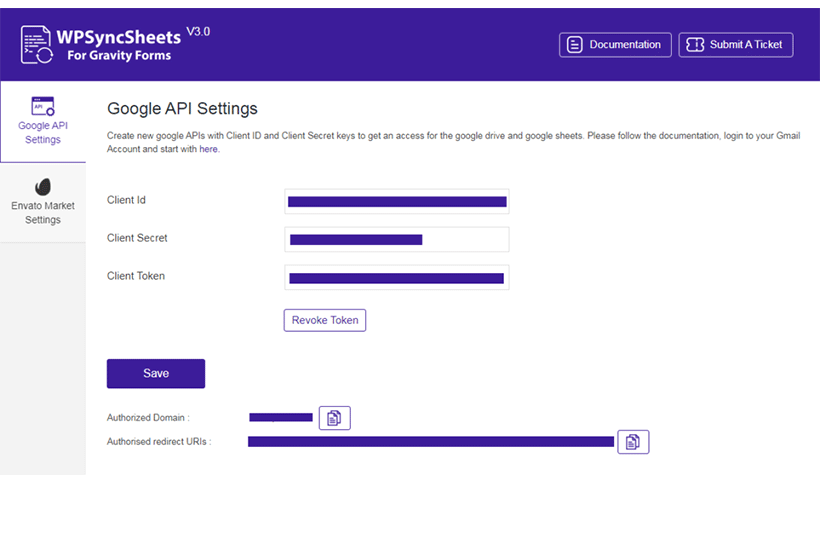 2. Google Spreadsheet Feed Settings
Forms => Edit your forms => Settings => WPSyncSheets => Add New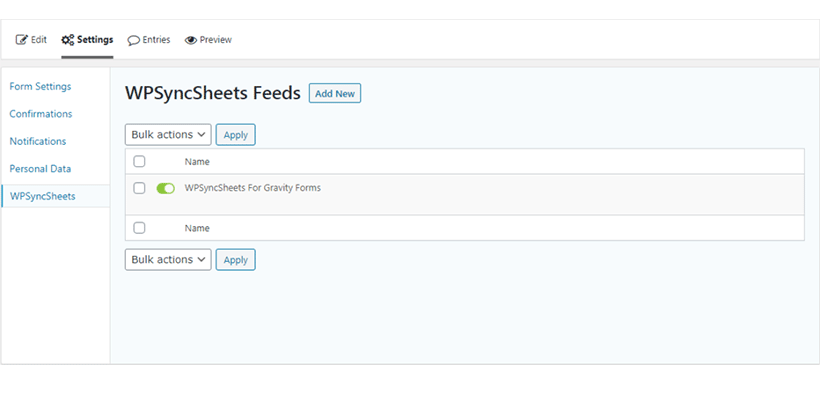 3. Feed Settings with Create New Spreadsheet and New Sheet
You can create a new spreadsheet and create a sheet directly from the feed settings. (no need to go with google drive). It will automatically set the default headers (Fields Name at first row) as per the form fields in the spreadsheet. Please check the below screenshot for more details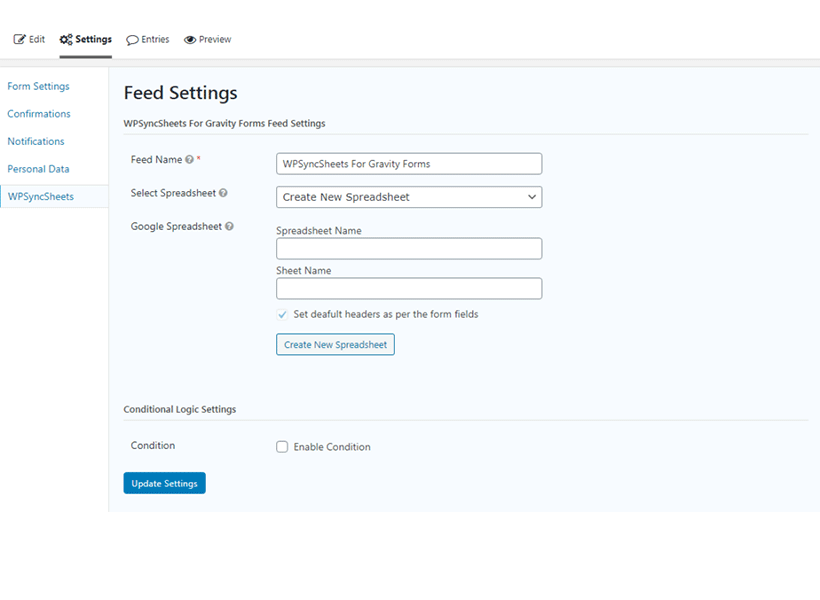 4. Feed Settings with existing Spreadsheet and Sheet
Select spreadsheet drop-down will automatically take the spreadsheet from google drive and also fetch the sheet name based on the selected spreadsheet. The sheet name can have the first row with headers to get the mapped with form fields.
Note: We need to set headers manually at the first row or there is an option to set the default headers.
Keep in mind that the "Entry Id" header must have to be the first column of the sheet to work all the WPSyncSheets for Gravity Forms functionality smoothly.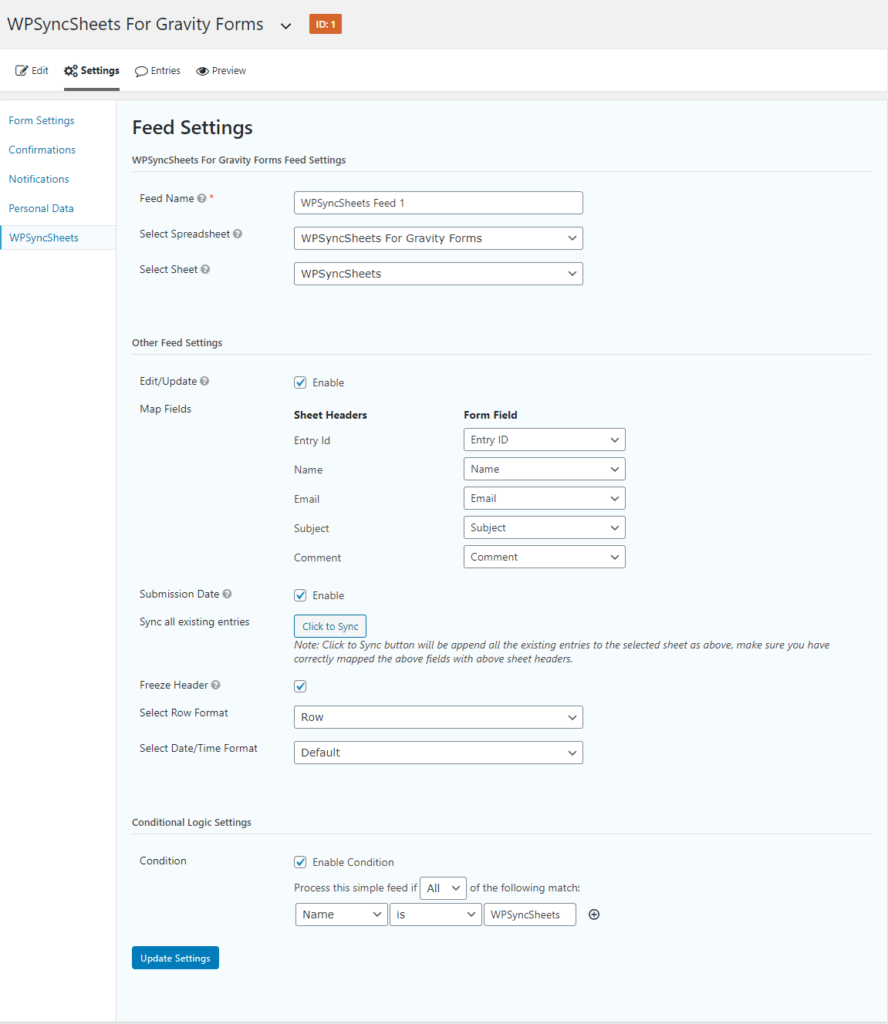 5. Other Feed Settings
Edit / Update Option – If this option enables from the admin side then whenever the admin change the value within entries of gravity forms at the same time it will get affected within the google sheet entries with that particular row.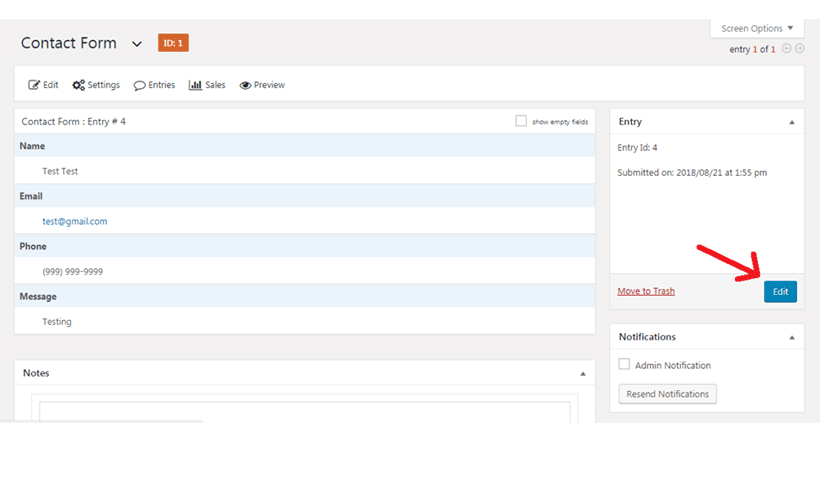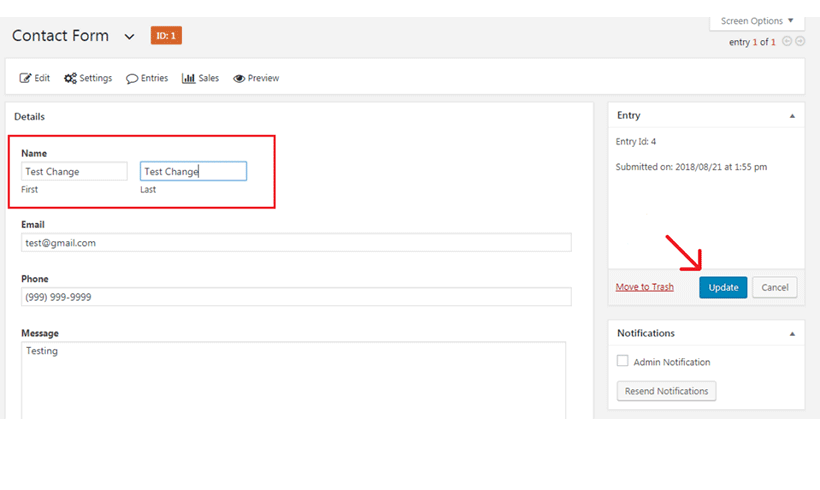 Updated Google Sheet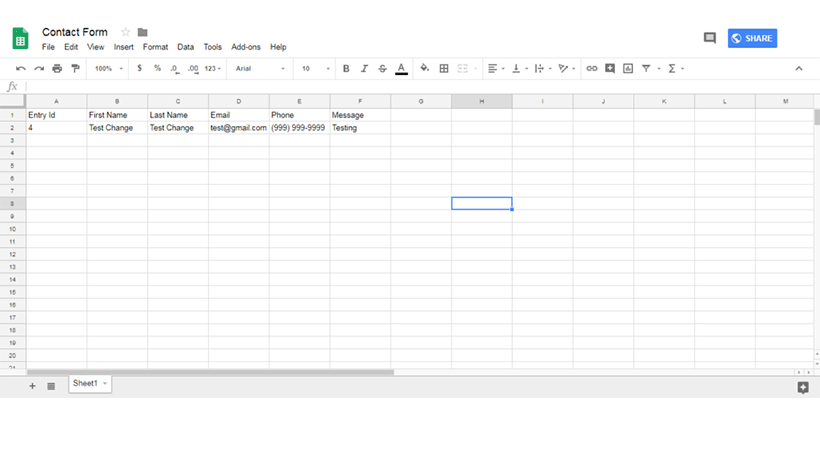 Map Fields
This feature allows users to associate left-side sheet headers of the google spreadsheet with the right-side form fields so that it can map the row within the google spreadsheet whenever form data is been inserted.

Sync all existing entries
When the user will click on the button called "Click to Sync" then it will synchronize/add existing gravity forms entries within the selected spreadsheet with the selected sheet.

6. After Payment Settings
Payment Status – This option will get visible when your form will have credit card fields added. If it is enabled then entries will only get added when payment is paid/approved otherwise all the entries will be added to the google spreadsheet.

7. Conditional Logic Settings
If an admin has set the conditional for the particular fields then all the data will be passed to google Sheets as per the condition match other wise no entry will be added.

8. Export Entries
When the user enables "All Entries" all the existing form entries will get added to the google spreadsheet or as per the selected date range, it will export all the entries within the google spreadsheet.